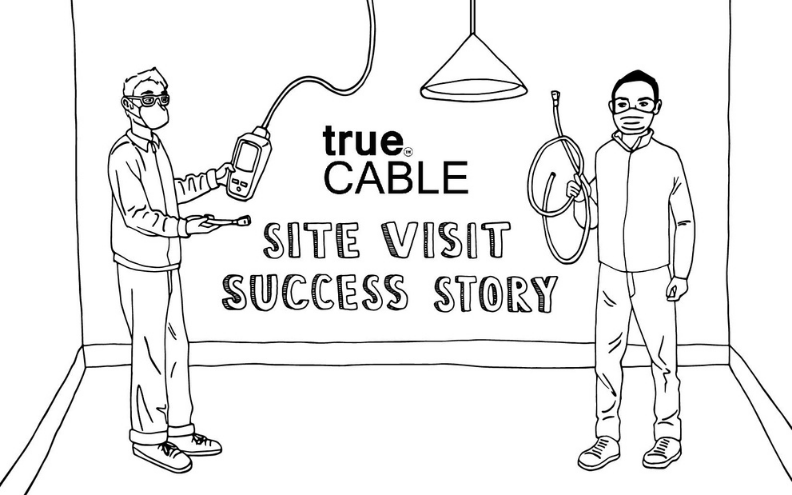 trueCABLE Site Visit Success Story
Kyle Riley, a seasoned IT professional, encountered negative test results when testing trueCABLE's Cat6 Ethernet Cables in the midst of setting up his outdoor security cameras and indoor networking solutions. What follows is Kyle's extraordinary encounter with trueCABLE and our very own networking expert, Don Schultz. 
trueCABLE Customer 
Kyle Riley is a contracted Network Engineer for Ford Motor Company. He's been an IT professional for almost five years. Despite working in an IT environment, Kyle's path in network engineering was not a traditional one. With a political science degree, everything Kyle has learned in the IT environment is self-taught through courses and certifications. He quickly climbed up the ladder, starting with network installations for private employers to managing a team of network installers for the Ford Motor Company.  
A trueCABLE customer for only a couple of months, Kyle discovered us through extensive research trying to find the best low voltage solutions at a reasonable cost. He ultimately landed on trueCABLE not only because the quality of our product is superior but on our glowing customer reviews and readily available technical specifications. 
The Challenge 
Kyle was installing new cabling in his home for both the internet and outdoor security system. When he first moved in, his technical knowledge was not as thorough as today, and he had Cat5e installed in his house when first built. Ultimately, Kyle was ready to implement a professional-grade networking solution for his home. 
Once Kyle started installing the direct burial cable outdoors for his surveillance cameras, he ran into a testing error showing a break on the blue and green conductors. He was using a Fluke AT2000  to test the shielded outdoor cables that dated back a couple of years. Kyle did not know if the Fluke AT2000 was pulling bad test results because the cable was shielded or if there was a break in the line. 
So, he did what any customer would do and gave us a call. Kyle called at the end of the business day and got a hold of the trueCABLE support team, who relayed their conversation to Don. When Don got in touch with Kyle the next morning, they started troubleshooting and discussing possible next steps and solutions to the errors he was facing. 
The Solution
Quickly, Don and Kyle realized that they were just 20 minutes away from each other. Don took off in the afternoon to head over to the Riley residence so he could help Kyle fix the error. 
Don brought his trusted DSX-8000 aka Mr. Flukey over to test Kyle's cable set up and discover the root of the problem. Don tested the spool and a couple of lines with Mr. Flukey to ensure there was not a break in the blue and green conductors. They discovered the Fluke AT2000 Kyle was using was getting incorrect test results that told them the copper conductors did not have continuity in the cable.
Don said, "The Fluke AT2000 had a bad RJ45 port after suffering a decade of use and abuse and was no longer viable. The RJ45 port was literally worn out after excessive insertion/removals. It should be noted that he had two units with the same issue! Both looked like they had been subjected to WWI, WWII, and went into the future and got subjected to WWIII and then came back again."
Results
Once they discovered the problem, Don stuck around to show Kyle how to terminate shielded cables with both the trueCABLE Toolless Keystone Jacks and prototypes of trueCABLE's new shielded RJ45 connectors. After an hour and a half, Don and Kyle fixed the runs, and all cables passed with flying colors.
After four months of redoing his home's internet and security system and over a thousand feet of Cat6 Ethernet cable, Kyle and his family are so happy with their networking upgrade!
Kyle's completed network system
If you ever have any questions about our products, our knowledgeable customer support staff is here to help you. While we might not always be available to do in-home visits, we always put our customers first. 
Do you have a success story you'd like to share with the trueCABLE team? Please send us an email at marketing@trueCABLE.com.