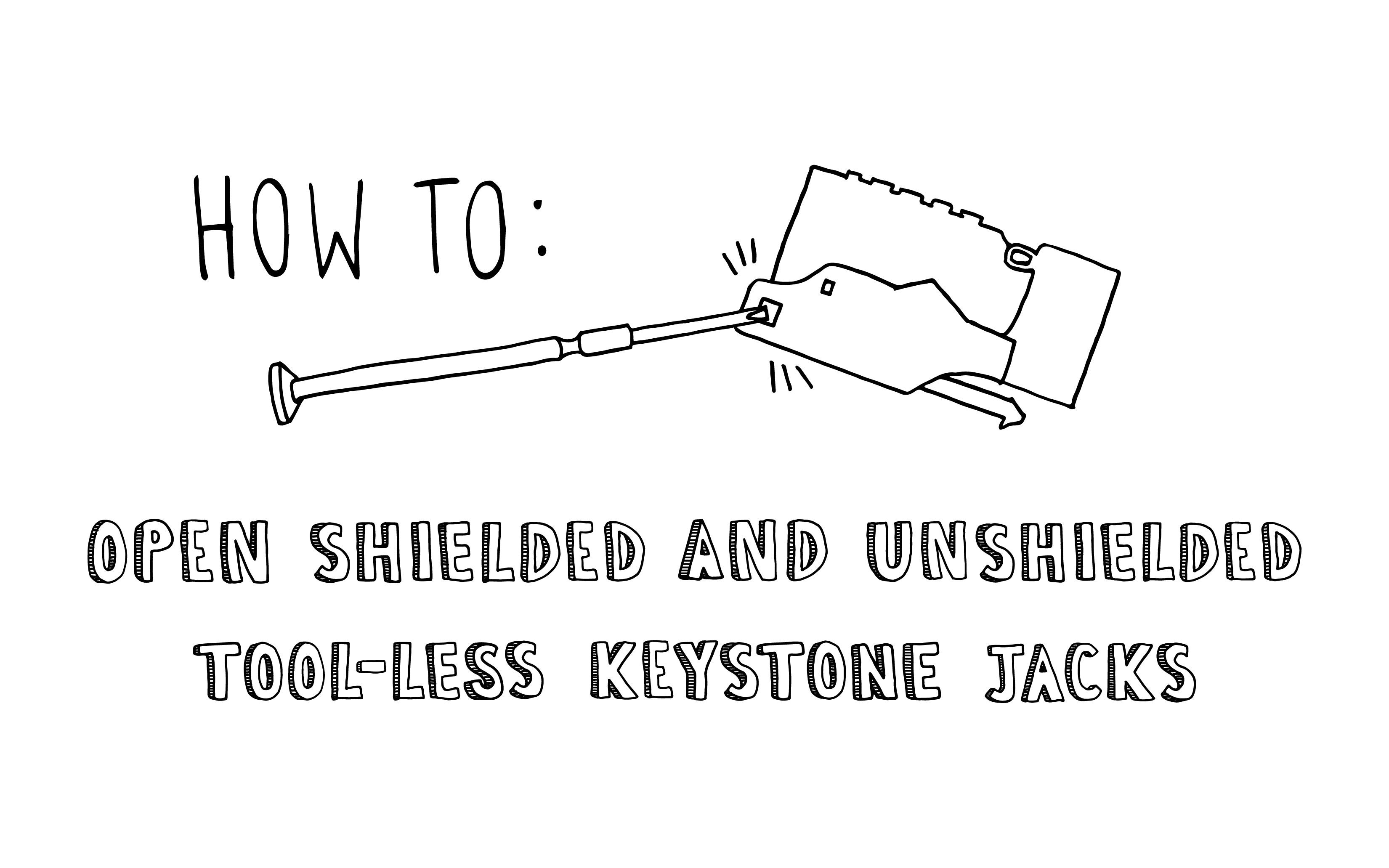 How To:  Open Shielded and Unshielded Tool-Less Keystone Jacks
Written Don Schultz, trueCABLE Technical Manager, Fluke Networks Copper/Fiber CCTT, BICSI INST1, INSTC, INSTF Certified
You are excited! You have waited patiently for your order to arrive from trueCABLE and of course you cannot resist the urge to look at all the goodies. In the process of inspecting your cool new accessories for Ethernet cable you accidentally close a tool-less keystone jack. Of course, you might have intentionally done that in order to see how they work. I cannot blame you, and quite frankly I would have done exactly the same. Seeing is one thing, but having something in your hands and actually working the mechanism really tells the "story", right? The thing is, you closed it and you might find yourself in the awkward position of figuring out how to open it. I actually found myself in this same situation with one of our unshielded tool-less keystone jacks when I first tested them some time back. It was an "uh oh!" moment for me, and I knew that if I came up short on this others probably would too.
One thing we will get out of the way right now is that all of our shielded keystone jacks, whether Cat5e, Cat6, or Cat6A, open in exactly the same way. The actual platform for the shielded keystone jacks is identical across Categories. What is different is the PCB (printed circuit board) inside the jack, but we are not talking about that right now.

The same concept applies to our unshielded tool-less keystone jacks. Although quite different from our shielded keystone jacks, all of the unshielded toolless jacks open the same way regardless of Category. The unshielded version, however, threw me for the biggest loop when I first began testing and developing them.
Now, if you are opening the keystone jack in order to re-terminate it, then the instructions remain the same but be sure to remove the nylon tie holding it all closed. Obviously that has to be removed first.
We have a video that explains all of this. I do suggest reading the rest of the blog, too. Pictures with call outs and circles bring yet even more clarity to this annoying situation!
First Up, Shielded Toolless Keystones
The easiest version to figure out how to open is the tool-less shielded type.
What you will need:
A small, but stiff tool like a precision screwdriver, standard flat head (not Phillips)

Don't try to use a pencil, it will break

Pens won't work

Eyeglass screwdrivers work handily enough
The ideal tool is this:
At the rear of the shielded keystone, there are two bars.  See here:
First, remove the nylon tie if this is a re-termination. Then, simply pry at one of the rear bars to open the lid, here:
Yes, it is that simple! Sometimes the most simple stuff escapes us technical types as we tend to overthink things. It happens.
Unshielded Toolless Keystones
Somewhat more challenging is the tool less unshielded type. This is the version that stumped me for a bit.
What you will need:
A small, but stiff tool like a precision screwdriver, standard flat head OR Phillips

Don't try to use a pencil, it will break

Pens might work, I have had mixed success with a ruined pen often resulting from the attempt

Eyeglass screwdrivers will still work handily enough

Patience
Again, the ideal tool is this:
One caveat, however. The blade or diameter of the shaft cannot be more than 2.0mm wide!  Anything larger than this will not fit into the plastic side slots. See here for what I mean:
That slot is one of TWO. There is another on the opposite side.
See what I mean?
Ok, so opening one of these guys requires a bit of judicious use of pressure, nimble fingers, and possibly even a third arm.  
Here is how I do it:
Remove nylon tie if this is a re-termination

Place your index finger and thumb on the smoke colored housing at the very rear

Using your tool, press inward on one tab slot to unlatch a single side

Once the tab is unlatched,

squeeze inward to keep it unlatched

While keeping up the "big squeeze" now unlatch the other side

Keep the pressure on

, and lift the smoke colored toolless cap upward

This may take a couple of tries
Some good to know items:
Keystones jacks, regardless of type, can be re-terminated up to 20X before the IDC springs inside the keystone jack start to lose proper tension

Once you terminate a keystone jack with 23 AWG conductor wires, you cannot switch over to the thinner 24 AWG typically found in Cat5e solid copper Ethernet cable. The IDC springs will no longer make proper contact due to being spread out too much from the initial termination. It is not likely to be an issue for you, as you typically would not switch downward in conductor size, but it is a good thing to be aware of.

trueCABLE keystone jacks will accept 22 AWG to 26 AWG solid or stranded copper conductors
So, there you have it. Not a terribly complex procedure, but not exactly obvious either. This holds true for the unshielded toolless variety especially. Forewarned is forearmed! With that, I will say thanks for reading and…
HAPPY NETWORKING!
trueCABLE presents the information on our website, including the "Cable Academy" blog and live chat support, as a service to our customers and other visitors to our website subject to our website terms and conditions. While the information on this website is about data networking and electrical issues, it is not professional advice and any reliance on such material is at your own risk.