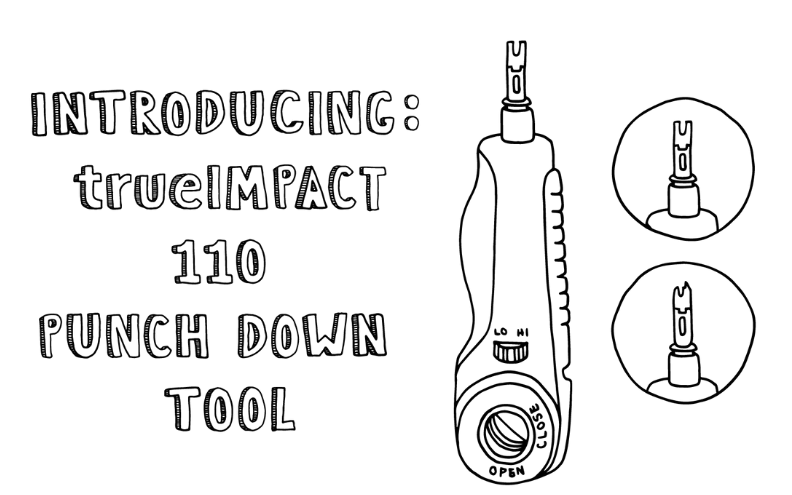 Introducing: trueIMPACT 110 Punch Down Tool
Written by Don Schultz, Technical Sales Representative and Fluke Networks Certified Technician
The market is literally flooded with punch down impact tools.  The pricing ranges from $9 to a whopping $75, depending upon the manufacturer and included accessories.  
The low cost tools look good, but are typically of poor quality and offer little in the way of features.  The expensive tools really are good, but will hit your wallet hard while not always offering the most desirable features.
How can trueCABLE redefine the simple ho-hum punch down tool?
Well, you start by asking an actual installer what they want!  Namely:
Price it reasonably

Design it to be tough...and offer up a

Forever Warranty

to go with it

Have it use standard and easy to find "twist and lock" tool heads

Put thoughtful design decisions into the product

It needs to fit in hand.  There are a lot of tools out there that look and feel like a wooden block in your hand.  Not ours.

There should be some "grippiness" to the handle.  The black outside molding is soft rubber.

Make it easy to find.  It should stand out.  Nobody wants to dig through a tool bag, black in color, looking for black in color tool!  So, you know, trueCABLE just had to put lime green on it…
What is a kinetic energy punch down tool...really?
Impact punch down tools are used to terminate wires into punch down patch panels and punch down keystone jacks.  
The idea is the tool head blade is used to push a wire conductor into a IDC terminal slot (Insulation Displacement Conductor).  At a certain set point the mechanism is triggered and an internal spring uses kinetic force to shove the conductor down between the metal prong contacts to make an electrical connection.  Oftentimes, the blade will also flush cut the conductor at the end of the process.
The tool head blades come in four styles:
Each of those blade styles handles different types of wire and terminals.  Most often, you see the 110 type and Krone type that is by far the most common for Category 5e and above Ethernet terminations.  Secondarily, 66 is next most commonly used for Cat3 (voice/telephone) punch down blocks for.  BIX is rarely seen in the USA.
This blog will focus on our trueIMPACT 110 Impact punch down tool.  
There is a short video demonstration of the trueIMPACT tool below.  We recommend you watch the video and read this blog as both mediums bring something to the table.
Our trueIMPACT 110 tool:
Comes with a double ended 110 blade (cutting side and non cutting side)

Has a HI and LO setting depending upon the wire gauge (thickness) that is being punched down

Use LO for 24AWG (typically Cat5e) conductor wires

Use HI for 23AWG (typically Cat6 or Cat6A) conductor wires

Has a hollow base and storage area for the 110 blade when not in use

Provides two swing out tools:

Spudger/screwdriver for general use

Hook for easily and safely removing improperly punched conductors
Tool walk around
The spudger and hook tools shown to good effect. LO and HI force adjustment with tool head release dial
Double ended 110 tool head.  The design is standard "twist and lock" and is compatible with any "twist and lock" tool head for sale on the open market.  One end has the flush cut blade...it is sharp so be careful!

Punching down a keystone jack
Final thoughts…
Our 110 impact tool requires no maintenance at all. There are no user serviceable parts and it should never be oiled.  After using your tool, it is a great idea to store the tool head in the hollow handle to avoid accidental injury.
We hope you find this tool to be more useful than any other similar tool you have used up to this point. We would love to show off your photos of it in use with your permission.
HAPPY NETWORKING!
trueCABLE presents the information on our website, including the "Cable Academy" blog and live chat support, as a service to our customers and other visitors to our website subject to our website terms and conditions. While the information on this website is about data networking and electrical issues, it is not professional advice and any reliance on such material is at your own risk.