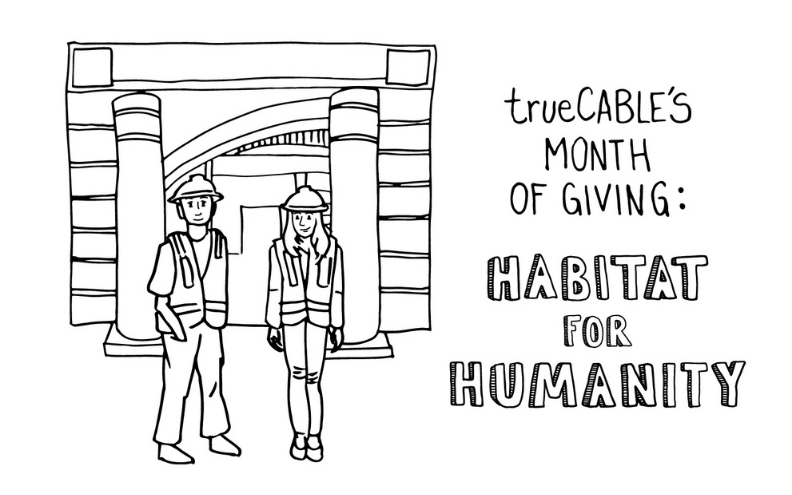 trueCABLE's Month of Giving: Habitat for Humanity
Written by Ann Harrison, Customer Success Manager
Did you know Worldwide Day of Giving falls on June 15 every year? It's a holiday about giving back to others. That's when we kicked off our month-long Round Up For Change fundraiser to support Habitat for Humanity. During the fundraiser, our customers had the opportunity to make a donation on our website. We wouldn't ask you to make a donation that we wouldn't make ourselves, and that's why we pledged to match all donations. We also had the opportunity to donate Ethernet cable to the local Kansas City chapter. 
Why Habitat for Humanity?
A global nonprofit housing organization, Habitat for Humanity helps families build and improve places to call home. Habitat's vision is of a world where everyone has a decent place to live. Habitat homeowners help build their own homes alongside volunteers and pay an affordable mortgage.
We can all agree that many families have faced hardships in the past year and a half. Some people have experienced these challenges for the first time in their lives. In an effort to help support these individuals, we wanted to create a fundraiser where our customers can participate in giving back to communities across all 50 states in the U.S. and beyond. 
Donation Results
The total donation to Habitat for Humanity through our Round Up for Change fundraiser was $523. This includes all donations made by our customers and the match made by trueCABLE. Every penny of that makes a difference for Habitat for Humanity.  Thank you to all our customers who contributed! We'll do it again next year and make sure the fundraiser is even easier to participate in. 
Supporting Our Hometown
With chapters across the country, Habitat for Humanity is in almost every major city across the U.S. One of those cities is Kansas City, where the trueCABLE warehouse and distribution center is located. While most of the staff works remotely in other states, Kansas City is trueCABLE's hometown. 
One of the materials they frequently request as a donation for their projects is Ethernet cable. We reached out to Habitat for Humanity of Kansas City to see how we could help support them and the community. Turns out they are doing a massive renovation of their headquarters! The much-needed update will allow them to better serve their neighborhoods for future development and community outreach.
trueCABLE and Habitat for Humanity team at the renovation site. 
We were honored to have the opportunity to donate 23,000 ft. of our Cat6 Unshielded Plenum cable to Habitat KC's renovation. It will help power their mission by providing internet access for teaching programs, community space, and for their general day-to-day functions.
trueCABLE handoff
How You Can Support Habitat for Humanity
If you're interested in learning more about how you can support Habitat for Humanity, check out their website! From making a donation to volunteering on-site, there's something for everyone. 
trueCABLE is looking forward to continuing our relationship with Habitat for Humanity and making this fundraiser an annual event!