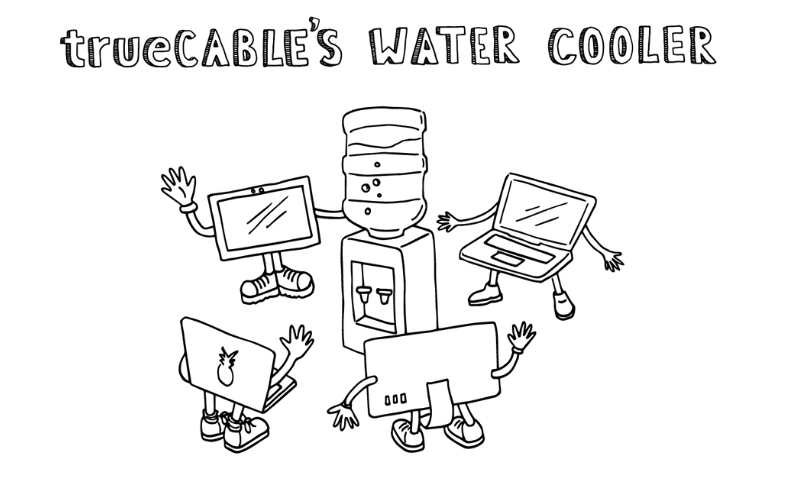 trueCABLE's Water Cooler: The quirky ways we connect, have fun, and celebrate as a remote team
Written by Stephanie Seber, trueCABLE Marketing
We've shared a lot on our blog about setting up your home office, or tips for increasing your WiFi speed at home so your Zoom calls stop freezing up on you. But what we haven't shared with you is that trueCABLE is a fully remote team (outside of our warehouse team). I thought it might be fun to give you an inside look into life as a trueCABLE team member.
In this blog I'll share with you our personalities behind the brand, ways we communicate, and what we do to stay connected as a team. From Emoji's in Slack to team happy hours, trueCABLE's remote team members across the country have various ways we stay connected around the virtual water cooler ;) Here's a look inside the trueCABLE family. 
Dad Jokes In Slack
Slack is how we communicate throughout the day as a team. Which means in addition to getting all of the work done, it's where we check in each morning and share the occasional dad joke:
We do a lot of chatting here, whether it be a new Podcast, playlists that get us amped, videos teaching us something new (this is Ann's favorite piece of random knowledge)  or sharing amazing customer feedback, we're always keeping the tone positive and happy. 
It's also a great place to celebrate birthdays, business milestones, BIRTHS, and anniversaries.
What's amazing about being remote, is that we're all in different locations, so we're always sharing where we are working from and who we're sharing our time with. 
(Ann has another amazing video that compliments this photo)
Whatever we're sharing, GIFs and Emojis are always very important and never frowned upon. 
Sharing our Favorites
Each trueCABLE team member is extraordinarily unique and eager to learn, so we love learning more about each others interest outside of work, like our favorite Podcasts:
This American Life
Beyond The Grid
RadioLab
How I Built This
Serial
Pod Save America
Morbid
The Daily 
This one is always my favorite to discover a little more insight into a person, their go-to karaoke song:
Jessica: She says we don't want to hear her sing, but we're sure after a few Pepsi's we can get her up on stage. 
John: Great Balls of Fire, Jerry Lee Lewis
Don: ATB
Anayeli: Can't Tell Me Nothing, Kanye West
Kim: Kim also told us she doesn't do Karaoke, but she will give each and every one of us glowing 10's
Ann: Bad Reputation, Joan Jett & the Blackhearts
Zach: Kickstart My Heart
Nathan: Alice in Chains "No Excuses"
Nick: He says he's a watcher
Jennifer: Hybrid Moments, The Misfits
Mikayla: Girls Just Wanna Have Fun 
Joe: Wish You Were Here
Myself: 7 Rings, Ariana Grande
And the recommendations are endless if you've run out of shows to binge or looking for a movie to watch this weekend. Here is what the team recommended: 
Ozark 

Stranger Things 

Narcos

Taco Chronicles 

The Crown 

Outlander

Mindhunter 

Ratched 

The Haunting of Hill House/Bly Manor
#RemoteLife
One of the greatest perks to being on the trueCABLE team is being able to do the job from anywhere. While it's been difficult to travel during the pandemic, our team members have taken their work on vacation with them. Some of the cool places we've worked: 
Inspiring Team Members to Improve our Business
At least once a week we're meeting with each other by video call to discuss new ideas and customer feedback, sharing personal and professional goals, and taking new classes to improve our business acumen.
trueCABLE is always going to extra steps to motivate and encourage their employees so we can continue to provide the best service for our customers. 
... And yes, we all have the fastest WiFi connection you could imagine ;)