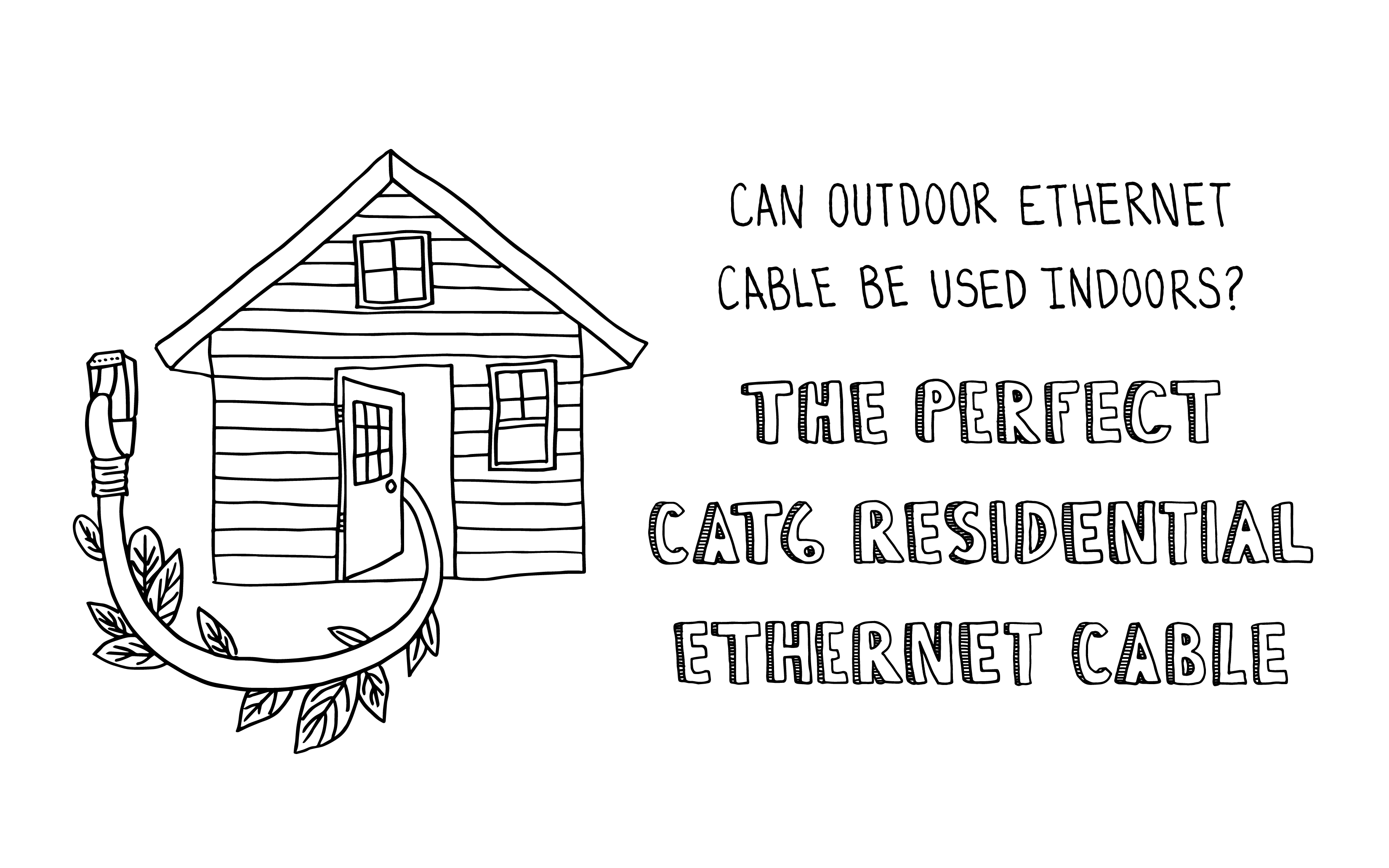 Can Outdoor Ethernet Cable Be Used Indoors?: The Perfect Cat6 Residential Ethernet Cable
One of the biggest issues with running Ethernet cable outdoors is that sometimes it also has to run indoors as well! For a residential customer, transitioning from outdoor to indoor cable adds greatly to the project complexity and cost. You need two kinds of cable! Wouldn't it be nice if somehow there was a way to get away with using only one type of cable, legally and technically speaking? At the same time, wouldn't it be nice if the cable was easy to work with? Well, your day (and project) might just have been saved!
 If you install Ethernet cable in a commercial environment, then you likely know about the strict prohibition of running OSP (outside plant otherwise known as CMX) cable into your commercial structure. Per the National Electric Code, that cable can run inside your building up to 50 feet before it has to be terminated. Actually, per the BICSI standards, that cable should be terminated right inside the building's EF (entrance facility). EF is a fancy term for a room where your utilities such as electrical, communications, and other kinds of cable poke through the building exterior walls, coming in from outdoors. Why, you ask? It is all about fire safety. Outdoor cable is not fire rated in the slightest for commercial use. In residential environments, the rules loosen up considerably. Things are different, and that is good news.
Right from the 2017 NFPA 70 (National Fire Protection Act):
According to the NFPA 70/NEC (National Electric Code) section 800.113, since CMX Ethernet cable is not fire rated it must not run indoors more than 50 feet before termination in any commercial structure. For residential single family and duplex dwellings, CMX Ethernet cable is permitted to be used as indoor/outdoor cable without restriction with the caveat that it cannot exceed 0.25" thickness (OD or outer diameter).
Well, it just so happens that trueCABLE has now introduced a Cat6 U/UTP Outdoor Ethernet cable that meets this criteria for single and duplex residential dwellings. How did that happen? We read the rules and then designed the cable around them! Adding shielding and/or waterproof tape would have put the cable jacket OD outside the acceptable range of indoor/outdoor use. So, we had to think "thin" and design a cable that was essentially identical to our Cat6 U/UTP Riser but has a LLDPE outdoor jacket instead of straight up PVC. If cable jacket ratings confuse you, please take a look at Facts About Ethernet Cable Jacket Ratings.
Given the following conditions:
Single or duplex residential dwelling
You need to run your cables indoors and out, but don't intend to direct bury
You do not need shielded cable (and most likely you don't)
Buying an additional spool or box of cable just for the inside is cost prohibitive or transitioning cable types is not feasible for your installation
....the ideal use cases are:
You need to run your Ethernet cable outside your home, attached on the sides**, and then around to come right back in (cases arise where it is not possible or easy to run cables inside your walls)
You need to install PoE (Power over Ethernet) surveillance cameras on your structure (siding, under awning, etc.)
You need to install PoE WiFi Access Points on your structure
** It is very unwise to install unshielded communications cable running across the top of your roof or to a device mounted high up on top of your roof without proper lightning protection mounted outside, prior to coming back into your home. Outdoor grade gas discharge lightning protectors properly bonded and running to ground are critical. You don't want a gazillion volts to come into your home!
Is there anything different about terminating this new cable? Not a thing, actually. Although the outdoor LLDPE cable jacket makes this cable a bit stiffer, it does not change how you terminate it. Treat the terminations just like our

Cat6 U/UTP Riser

and use the exact same accessories. Let's get into the specifics for this cable:

23AWG 4-Pair, solid bare copper conductors

Unshielded (called U/UTP)

Supports PoE, PoE+, and PoE++ up to 60W DC (802.3af/at/bt)

cETLus Certified, RoHS-3 Compliant

NOT rated for direct burial

Linear Low Density Polypropylene outdoor jacket

Internal spline pair separator

6.30mm cable jacket diameter (OD)

1.01mm insulated conductor diameter
Terminate with the following hardware:

HAPPY NETWORKING!
trueCABLE presents the information on our website, including the "Cable Academy" blog and live chat support, as a service to our customers and other visitors to our website subject to our website terms and conditions. While the information on this website is about data networking and electrical issues, it is not professional advice and any reliance on such material is at your own risk.