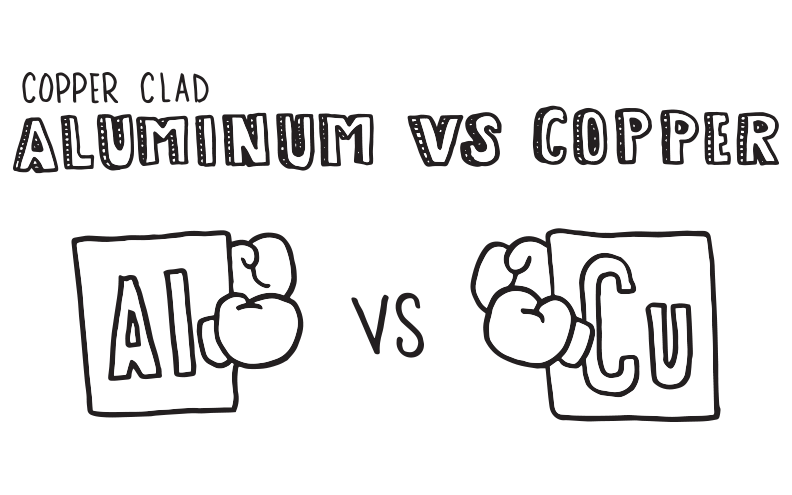 Copper Clad Aluminum vs Copper: The Ultimate Test on a Fluke Versiv DSX CableAnalyzer
Written by Don Schultz, trueCABLE Technical Sales Representative & Fluke Networks Certified Technician
If you read my previous blog Check Your Specs, CCA is Different from Solid Copper then you know that Copper Clad Aluminum (CCA) is bad...very bad. To recap some of the elemental (pun intended!) reasons:
CCA is not approved for use by ANSI/TIA in Ethernet cable applications due to poor data and PoE transmission characteristics
CCA is not approved for use in any application by the National Electric Code (NEC) for low or high voltage cabling due to it being a fire hazard
CCA is not approved by UL due to it being a fire hazard
These industry and regulatory bodies only approve of solid or stranded copper, even for Ethernet cable. Many people think Ethernet somehow is not electrical in nature. It is, just ultra-low voltage without PoE and if it is running PoE over it then, it is considered low voltage.
Yet, there are manufacturers still making it and sellers selling it. Why? Here are some reasons:
YOU. Yes, you heard it right. Not you specifically, but people in general. If there was no one buying it, there would not be a market for it. Some people knowingly buy CCA, which leads us to the next possible reason...
Taking advantage of people who don't know any better. Folks shop for price alone quite often, and if the product seems legitimate then why not pay less?
Straight up dishonesty. The manufacturer and seller know it is CCA, but label it as copper anyway or don't disclose what it is made out of. This is the worst case scenario but it does happen. In fact, recent information even indicates that these folks will go as far as putting weights into the box to make them heavier. Copper weighs more, you see.
So how do you tell? Well, the blog I referenced earlier goes into detail. For now, let's see how this CCA stuff performs next to our solid copper cable. Here are the test conditions:
I picked a Brand X Cat5e CCA cable from Amazon, 245 foot length
I then compared it to our Cat5e Riser U/UTP solid copper (Part Number: 5ECMR), and cut it to 245 feet
Both cables were terminated to identical unshielded Cat5e punch-down keystone jacks
A Fluke DSX-8000 Versiv CableAnalyzer from Fluke Networks was used to test in a Category 5e Permanent Link configuration with +PoE for additional test results added on. LinkWare PC was used to generate the results I am presenting.
Here are the results, and they speak for themselves. I won't even bother to comment further. Well, maybe a little...but first the results:
Brand X CCA:
As you can see, the test result above looks really bad. Notice the Resistance limit is 21.00, and this cable gave 35.31. That's a common characteristic of CCA. It is simply bad at transmitting electrical impulses. PoE or data, for all intents and purposes, is essentially the same thing. So, it failed PoE and the basic metrics like Insertion Loss which is signal degradation over distance. Yup, that's to be expected. Aluminum might be great in airplanes, but not Ethernet. I cannot overstate just how much risk you run of an electrical fire if your intention is to run PoE. Oh, the cable failed the cross talk (NEXT) test too.
Basically, CCA cable is good for stringing up your laundry if you aren't into dryers.
So, here is what a good quality, solid copper test result looks like:
As you can see from the results above, our Cat5e Unshielded Riser performs well enough to pass the toughest test of them all, a Fluke Versiv CableAnalyzer. It handles PoE extremely well and passed all metrics.
So, there it is. Now you know for a fact just how badly CCA performs and how well our solid copper cable performs right next to it. Happy Networking!
 trueCABLE presents the information on our website, including the "Cable Academy" blog and live chat support, as a service to our customers and other visitors to our website subject to our website terms and conditions. While the information on this website is about data networking and electrical issues, it is not professional advice and any reliance on such material is at your own risk.