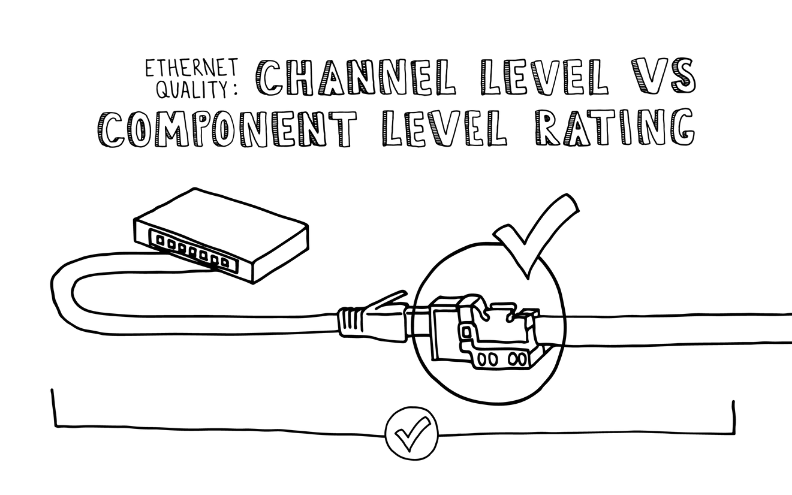 Ethernet Quality:  Channel Level vs Component Level Rating
Written by Don Schultz, Technical Sales Representative and Fluke Networks Certified Technician
If you have been shopping on the trueCABLE website recently, you likely noticed a drastic expansion of our "Terminations" section. As we add connection components to our line of Ethernet cable to become a "one stop shop" the primary focus is not only ease of use, but also guaranteed performance. As long as you install the cabling system according to the ANSI/TIA 568 set of standards.
One way we strive to bring this extra level of quality is by component level testing of our keystone jacks and field termination plugs to extremely strict ANSI/TIA 568 2.D guidelines. When trueCABLE introduces patch cables they will also be required to meet this strict metric as well.
Take this snippet from one of our keystone jack listings, for instance:
Notice the "component level rated" statement? This is not marketing fluff. It really does mean something in the world of Ethernet quality.
So, grab your coffee and bring your brain. This discussion is part physical and part conceptual in nature. 
What is component level rated?
So simple a statement, but the implications are:
The individual component in question "stands alone" in regards to performance

If each component is component level rated, then your chances of achieving a Certified install that even a

Fluke DSX-8000

will pass are very high (assuming you do your part!)

The component meets the individual performance and physical requirements

of the individual section

for said component in the ANSI/TIA 568 standard
Make no mistake, there is an individual component requirement found in the standard for each and every possible item you could use to construct a channel. Many individual components on the market such as keystone jacks, solid copper structure cable, and patch cables do NOT meet strict component level requirements!
So...if the keystone jack or patch cable does not meet component requirements then what does it supposedly comply with?
Channel rated components
Channel rated components are not specifically labeled as "channel rated"
Channel rated components look like higher quality component rated components
The big difference between channel and component rated components is the testing they are subjected to prior to being packaged up and sold to you, the installer. Channel rated components have been tested to loose guidelines, often too loose for the situation which can and does lead to misleading claims.
The above infographic describes the conceptual and physical differences between a component item and an overall channel.
The individual keystone jacks, solid copper structure cable, and patch cables are all components of the overall channel. 

Conceptually the channel is the logical end to end communications channel from your Ethernet switch to the computer on the far end. The channel is all-encompassing.
Another example of a channel is even simpler--using a single continuous cable with RJ45 plugs on both ends to connect your Ethernet switch and computer. This is called using a "patch cable as channel", and skips using all the stuff in between. 
An Ethernet cable (solid or stranded copper conductor) used in this fashion is a patch cable by definition because it has RJ45 plugs on both ends.
How Do You Tell the Difference?
Being able to pick out the component rated pieces vs channel rated pieces is not straightforward unless the manufacturer (like trueCABLE) is expressly telling you that these components are indeed "component rated". In other words, unless you have the ability to test the claims, you have to take someone's word for it.
Making things a bit more complicated, there is no way for the end user to truly confirm component level ratings of something like a keystone jack without laboratory equipment. Not even a Fluke DSX-8000 can tell you that, although you can get close. The reason is quite simple--if you use a Ethernet Certification device you will, at a minimum, need three components.
These two components are:
At least two "ends" whether that be keystone jacks or RJ45 plugs

One cable in the middle
Are you getting a good test of the cable or are you seeing the quality of the individual components in these tests? Is the correct test being run for the configuration at hand?  Another wrench for you: Are you seeing the quality of the components reflected in the test results or are you also seeing my ability to terminate Ethernet connections as well? Even with the correct test, you are actually seeing all of the above.
All is not lost to help prove or disprove a manufacturer's claims. It just takes a Fluke DSX-8000 to get close to the actual truth. Not just a Fluke DSX-8000, but also one that is kitted out with quite a few expensive accessories! Oh, and the correct tests need to be run as well. There is a reason Fluke Networks has Certification classes for using their testing equipment.
To help sort things out, we have separate test reports available that detail:
Keystone jack PCB (printed circuit board) performance, before and after the keystone is constructed. These tests are generated in our factory and not in the field.

Permanent Link configuration performance, showing two keystones and solid copper structure cable. This is a tight test, far tighter than a Channel test, and shows the quality of our cable and keystone jacks.

MPTL (Modular Plug Terminated Link) performance, showing a single keystone plus RJ45 plug terminated at opposite ends of the solid copper structure cable. This test has the same tight guidelines as a Permanent Link test.

Patch cable testing using Fluke PCA adapters that really do test a patch cable to the component specification. It should be noted this particular test is about as tight as you can reasonably get with a Fluke DSX-8000 to test the quality of the cable itself. Many manufacturers and sellers use Channel tests that do not demonstrate actual performance or quality of the product. Beware!
Of course, the tests also show:
My ability to terminate a RJ45 connector and/or keystone jack properly

Cable that has not actually been installed. Tests are run in a testing lab environment.

All cable runs are at the maximum specified length for the ambient temperature. In all cases, this will be either 295 or 328 feet at 68 degrees F.

My ability to properly run the correct Certification tests with the correct adapters for the Fluke DSX-8000 that I use
Since we are not in the business of under delivering, we post the most vigorous possible Fluke DSX-8000 example test reports to prove that we sell components that meet the specifications.
Example Test Reports
From our factory, here is an example test report of a Cat6A PCB prior to be constructed into a keystone jack:
Here are two of those Cat6A keystone jacks constructed into a Permanent Link configuration, using a Cat6A Permanent Link ANSI/TIA 568 2.D test + PoE test setup. The cable used was 296 feet of our Cat6A Unshielded Plenum Blue. This test was run with the Fluke DSX-8000 and Permanent Link adapters (PLA adapters):
Our Fluke test result examples are available for each cable cable type and accessory type trueCABLE sells. The above example report is just one of many that is generated on a regular basis.
As you can see, we take quality seriously. We go the extra mile by using the correct test device running the correct tests.  Did you know that many patch cables sold today will not fully pass the correct TIA Patch Cord test using PCA adapters on our Certifier? Instead, if the manufacturer tests the patch cable at all and posts test results they often use incorrect test limits that don't give you the full story. This is not ethical, and trueCABLE will always go out of our way to inspect our products so you get the quality you expect.
HAPPY NETWORKING!
trueCABLE presents the information on our website, including the "Cable Academy" blog and live chat support, as a service to our customers and other visitors to our website subject to our website terms and conditions. While the information on this website is about data networking and electrical issues, it is not professional advice and any reliance on such material is at your own risk.