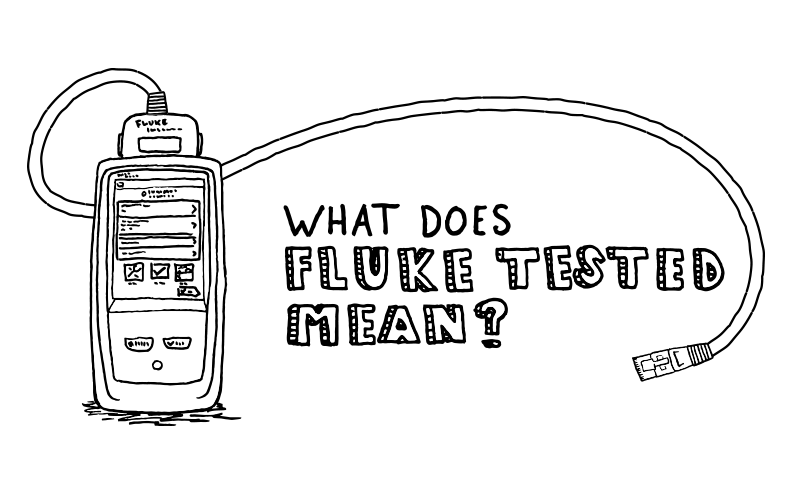 What Does Fluke Tested Mean?
Written by Don Schultz, trueCABLE Technical Sales Representative & Fluke Networks Certified Technician
When testing your Ethernet network, you have a few options. As detailed in the Free Whitepaper: Testing 10 Gigabit Ethernet Over Copper on a Shoestring Budget, the most extensive (and expensive) option is to Certify your cable runs.
The Fluke Networks Versiv CableAnalyzer is the gold standard of quality guarantees for Ethernet cable installation. Often it is demanded on large corporate installs where a contract is involved. In some cases, the manufacturer of the Ethernet cable will not pass along a warranty unless presented with post-install Fluke test results.
The folks most likely to demand full blown ANSI/TIA 568 Certification of their installation are:
Medium and large business, and even some smaller businesses too
Hospitals, clinics, and other medical/laboratory related industry
Federal, State, and even local Government jurisdictions
Any network that must work, no matter what, because property, life, or large amounts of money are on the line
...probably not your grandmother, but you never know
Not only is this Certification the standard by which many installations are measured against, but companies like trueCABLE make use of a Fluke test device. In our high-service factory, we test entire spools of cable. Plus in our quality control and product development processes, we test using the Fluke device in order to show our dedication to quality. Our customers can rest assured that what they buy is up to the task.
To be clear, Fluke Networks does not test third-party cable installations or products in the field or factory. Fluke Networks makes the testing devices for others to use (and they make a ton of different kinds for different industries). Not only do they offer the test equipment, but training and extensive blogs are also found on their website covering the latest industry standards and tips.
So, what is measured?
Simply put, when an Ethernet cable is subjected to a Fluke Versiv CableAnalyzer cable test, there is a battery of tests that may be carried out. These tests range from:
ANSI/TIA 568 Category standard compliance, using the rules and guidelines around Ethernet cable installations, for permanent links (solid copper structure Ethernet cable) and channels (permanent link + stranded copper patch cables)
Ethernet cable spool/box testing (typically done in a factory)
ANSI/TIA Category patch cable testing (RJ45 plug to RJ45 plug terminated Ethernet patch cord)
Application testing to a certain IEEE standard such as 1000BASE-T
PoE testing (making sure the cable supports Power over Ethernet for IoT devices, Wi-Fi Access Points, IP cameras, etc.)
ISO/IEC (International Category standards) testing
...and more
Each test type carries certain industry approved criteria, and a number of test metrics are used to test that a cable is performing as designed. In the case of a "full blown" ANSI/TIA 568 Certification of permanent links, a number of tests are performed like:
Wire Map - checking for physical wiring issues like shorts and mis-wires
NEXT, PS NEXT - cross talk near and far end, spots bad cable and excessive untwist of the pairs at the connector
Return Loss - cable quality, spots water in your cabling too
TDR - length, on the "shortest" pair
Propagation Delay - time it takes to send a 10 MHz signal down the cable
Delay Skew - difference in signal delay between conductor pairs
DC Resistance Unbalance - spots defects in the copper conductors...GREAT WAY TO SPOT CCA CABLE!**
Insertion Loss - spots cable over the length limit, and bad cabling
ACR-F, PS ACR-F - attenuation crosstalk ratio far end, spots cable over the length limit and bad cable
PS ANEXT, PS AACR-F - Cat6A alien (cable to cable) crosstalk testing
** CCA or Copper Clad Aluminum cable is the bane of the Ethernet industry. The DC Resistance Unbalance test includes DC Loop Resistance as a metric. CCA cable is quite horrible at transmitting data or DC voltage and will show up glaringly in this test. Take a look at our blog Check Your Specs, CCA is Different from Solid Copper if you would like to know why CCA is the last thing you want for your wired network.
Further, the ANSI/TIA 1152 document specifies that individuals using a Certification device also be trained to perform the testing at hand. That is right...the Certifying person should be Certified to run the Certifier! For example, in my case, I am a Fluke Networks Certified Cable Test Technician after taking a training class and passing a test.
Had enough of the techno-babble? How about some pictures…
While the Fluke name is thrown around a lot, not a lot of folks get a chance to actually see one of these devices and get some explanation around what is the box. Well, meet Mr. Flukey.


Fluke DSX-8000 CableAnalyzer main and remote units
Main unit touch screen display
Some of the many tests that can be performed
Permanent link adapters
Channel adapters
Alien crosstalk adapters
Universal couplers, and yes--headphones
You might find the addition of headphones odd. I certainly did when opening the box up and looking at them. As it turns out, these headphones have microphones too. There is one set for the main unit and one for the remote unit. This is how your two people will communicate when moving the units from run to run for testing. Once I figured that out, I felt a bit sheepish. Doh!
So, now you have seen what one of these "Fluke things" looks like. I hope that clears any misconceptions. It cannot be overstated just how useful one of these devices is. Troubleshooting becomes a breeze. Your customers will get professional test reports. There will be no doubt in your mind and the mind of your customer that the cabling installation is what they ordered.
Happy Networking!
 trueCABLE presents the information on our website, including the "Cable Academy" blog and live chat support, as a service to our customers and other visitors to our website subject to our website terms and conditions. While the information on this website is about data networking and electrical issues, it is not professional advice and any reliance on such material is at your own risk.