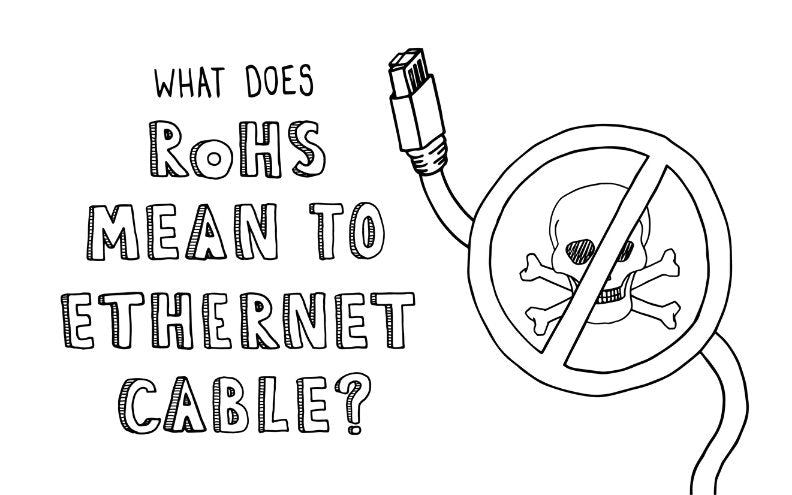 What Does RoHS Mean to Ethernet Cable?
Written by Rita Mailheau, Information Security & Technology Writer
RoHS is an acronym that indicates that a manufacturer has followed the Restriction of Hazardous Substances guidelines. Also known as the Directive 2002/95/EC, the RoHS standard originated in the European Union to restrict the use of specific hazardous materials found in electrical and electronic products (known as EEE). The purpose of this directive is to protect the environment and reduce exposure related health risks. RoHS was enacted in July of 2006 and updated in June of 2011 and November of 2017. Any products marketed in the E.U. are subject to RoHS compliance standards.
Those Affected by RoHS
Businesses that sell or distribute EEE products, sub-assemblies, components, or cables directly to E.U. countries or sell to resellers, distributors, or integrators that in turn sell products to E.U. countries are all impacted if any of the restricted materials are utilized.
RoHS also applies to the metal industry in the categories of metal plating, anodizing, chromatin and other finishes or EEE components, heatsinks, and connectors.
The Hazardous Materials Mandated under RoHS
The following substances, banned under RoHS, present a hazard to the environment and pollute landfills. They are also dangerous in occupational settings, which are primarily manufacturing and recycling.  
The following chemicals are RoHS restricted:
Lead (Pb)

Cadmium (Cd)

Polybrominated biphenyls (PBB)

Di-ethylhexyl phthalate (DEHP)

Diisobutyl phthalate (DIBP)

Mercury (Hg)

Hexavalent chromium (CrVI)

Polybrominated diphenyl ethers (PBDE)

Benzyl butyl phthalate (BBP)

Dibutyl phthalate (DBP)
The RoHS Compliance Testing Process
Compliance officers conduct tests using portable RoHS analyzers, also known as X-ray fluorescence or XRF metal analyzers. These tests screen and verify the presence or nonpresence of restricted metals. In November 2017, the European Parliament added the four phthalates recorded in the chart above to their list of restricted substances. The phthalates require different testing to ascertain levels of these compounds. They extract these compounds using a solvent—more information about this can be found on the RoHS Testing page.
Why This Is Significant to U.S. Residents
The reason for the implementation of RoHS compliance is the increasing levels of e-waste or high-tech trash. Since technology is rapidly increasing, many consumers and businesses are throwing away their old, obsolete equipment, and filling landfills across the world with hazardous materials.
Efforts to "recycle" these electronics, though well-meaning, are putting adult and child workers in foreign countries at risk of exposure to heavy metals such as lead and mercury. Additionally, these toxic products are shipped back to the U.S.
Will the U.S. Adopt A Similar Standard?
Domestically, California is the only state to have passed a law prohibiting the sale of electronic devices that are not compliant with RoHS. The California list of hazardous metals is shorter and includes: Lead, Mercury, Cadmium, and Hexavalent chromium (please see S.B. 20: Electronic Waste Recycling Act of 2003 EWRA, for more info).
Conclusion
The E.U. RoHS Directive is helping to protect workers and the environment from exposure to hazardous heavy metals. trueCABLE products are RoHS compliant and are safe for use and completely compliant for companies that do business within the E.U.
trueCABLE presents the information on our website, including the "Cable Academy" blog and live chat support, as a service to our customers and other visitors to our website subject to our website terms and conditions. While the information on this website is about data networking and electrical issues, it is not professional advice and any reliance on such material is at your own risk.