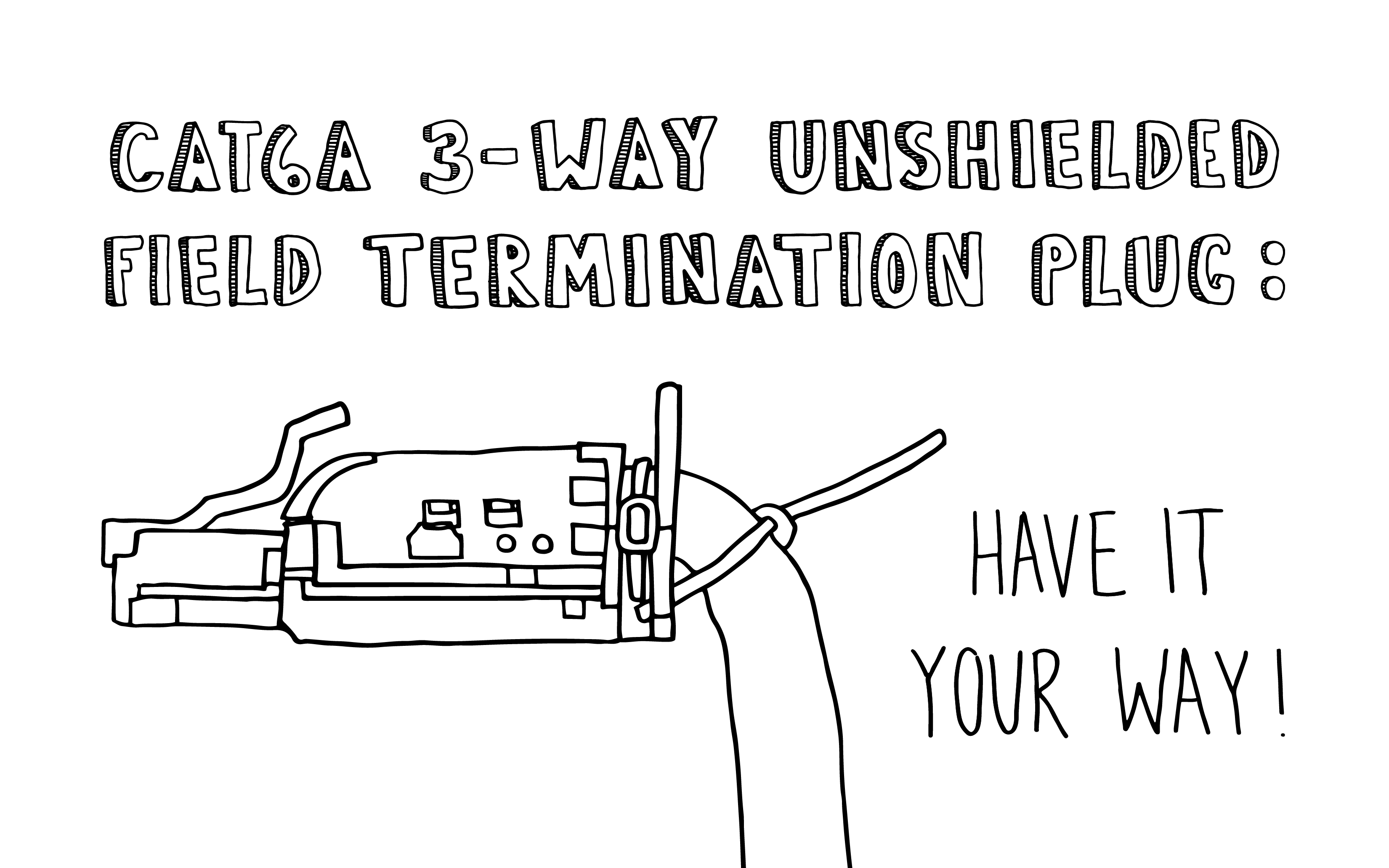 Cat6A 3-Way Unshielded Field Termination Plug: Have it Your Way!
Field termination plugs are a key way of achieving good performance when you need a male plug end as opposed to using a plain RJ45. I strongly recommend you use them when you can, and leave the RJ45s to pre-terminated patch cables that come from a factory. If you need to make a high performing custom and reliable patch cord (male to male end) in the field, especially when using solid copper Ethernet, you will need to use field termination plugs at both ends. 
This is especially true when dealing with 10G speeds at Cat6A's operating bandwidth of 500 MHz. 
Advantages of field termination plugs:
Easy to terminate, even for a novice

Don't require a special termination tool

Not fitment critical (RJ45s are super critical about fitment to the cable)

Reusable up to 20X. RJ45 8P8C connectors, once terminated, cannot be removed.

Provide maximum performance due to impedance matching and the Component rated PCB inside, which greatly reduces internal pair-to-pair cross talk
Disadvantages of field termination plugs:
Usually far more expensive than RJ45 8P8C plugs

Twice the length or more compared to RJ45 8P8C plugs, making their use in tight spaces not feasible (like outdoor WiFi AP housings, sealed IP camera housings, etc.)
Much has been written and said about Cat6A cable itself, but what does not get discussed nearly enough is the correct way to terminate your Cat6A Ethernet cable so that it will actually achieve 10GBASE-T. To be more correct, proper termination technique and accessories not only applies to 10G over Cat6A, but any Category cable at any speed. 10G just happens to be the most sensitive about the whole thing. Take a look at Choosing the Right Termination - Keystone Jack vs RJ45 Connector vs Field Termination Plug to find out the best to least best way to terminate Ethernet network cable. Apart from the equipment you will require to get there, the cabling and accessories beg that you pay attention to what you are doing! Although you can use Cat6 to achieve 10 Gigabit when going short distances, if you wish to get that speed all the way out to 328 feet you will need Category 6A Ethernet cable. Cat6A also provides the best future proofing that you can get short of fiber optic.

This is all well and good to know, but up until now finding an unshielded field termination plug has been next to impossible. Adding to the pain, if you wished to use a field termination plug on unshielded Ethernet you would need to use a shielded field termination plug and these are much more expensive than plain RJ45 8P8C plugs. This effectively put everyone into a "Catch-22" situation, which had to change.
The Solution
Our new Cat6A Unshielded Field Termination Plug
The companion video below is meant to be watched in context of reading this blog too. Please take a moment to watch how to work with this field termination plug and then we will get into high resolution photos and point out details and "gotcha" points.
Primary features of our new field termination plug:
Category 6A Certified, Component rated

Impedance matching

Backwards compatible with Cat6 and Cat5e, assuming the cable jacket OD is 6.00mm to 8.50mm

Compatible with 0.80mm to 1.22mm insulated conductors, 23 & 24AWG solid or stranded copper

Compatible with U/UTP Ethernet (unshielded)

PoE Certified for 802.3af/at/bt PoE/PoE+/PoE++ up to 90W DC

Tested with a Fluke DSX-8000 with trueCABLE Cat6A unshielded Ethernet cable for TIA 568-2.D, Cat6A MPTL +PoE and TIA 568-2.D Cat6A Patch Cord performance

3-way cable attachment (from bottom or top vertical to the plug housing or straight-in)
Termination Steps & Details to Know

Strip off about 1.5" of cable jacket. Be careful not to nick conductors during the stripping process!
Remove cable spline
Don't cut the spline straight across. Cut each wing (four of them) at a downward angle towards the cable jacket and then twist to remove.


Wire up the conductor holder cap rear pairs first. T568B sequence shown.  
Make sure the cable jacket is snug against the stop point

Secure the rear pairs first to keep the cable jacket snug
Front pairs inserted into slots
Flush cut off conductor excess
Insert conductor holder cap into field term plug body
Insert the conductor holder cap under the clear locking latch and mate up the rectangular slot in the conductor holder cap with the blue rectangular post in the field termination plug body. Then press down.
Press and snap the conductor holder cap so the white tabs (two each side) are engaged
Often the thick insulated conductors of Cat6A Ethernet cable will pose a significant issue for people without the finger strength to snap the plug together. In this case, use our Parallel Jaw Pliers (PN: trueCLOSE).
The final step is to apply the zip tie.  Three positions are possible.
There you have it. Our Cat6A Unshielded 3-Way Field Termination Plug will allow you to create high quality, high speed, and reliable in-field custom made patch cords for connections that really matter! See, you really can "have it your way".  
HAPPY NETWORKING!
trueCABLE presents the information on our website, including the "Cable Academy" blog and live chat support, as a service to our customers and other visitors to our website subject to our website terms and conditions. While the information on this website is about data networking and electrical issues, it is not professional advice and any reliance on such material is at your own risk.