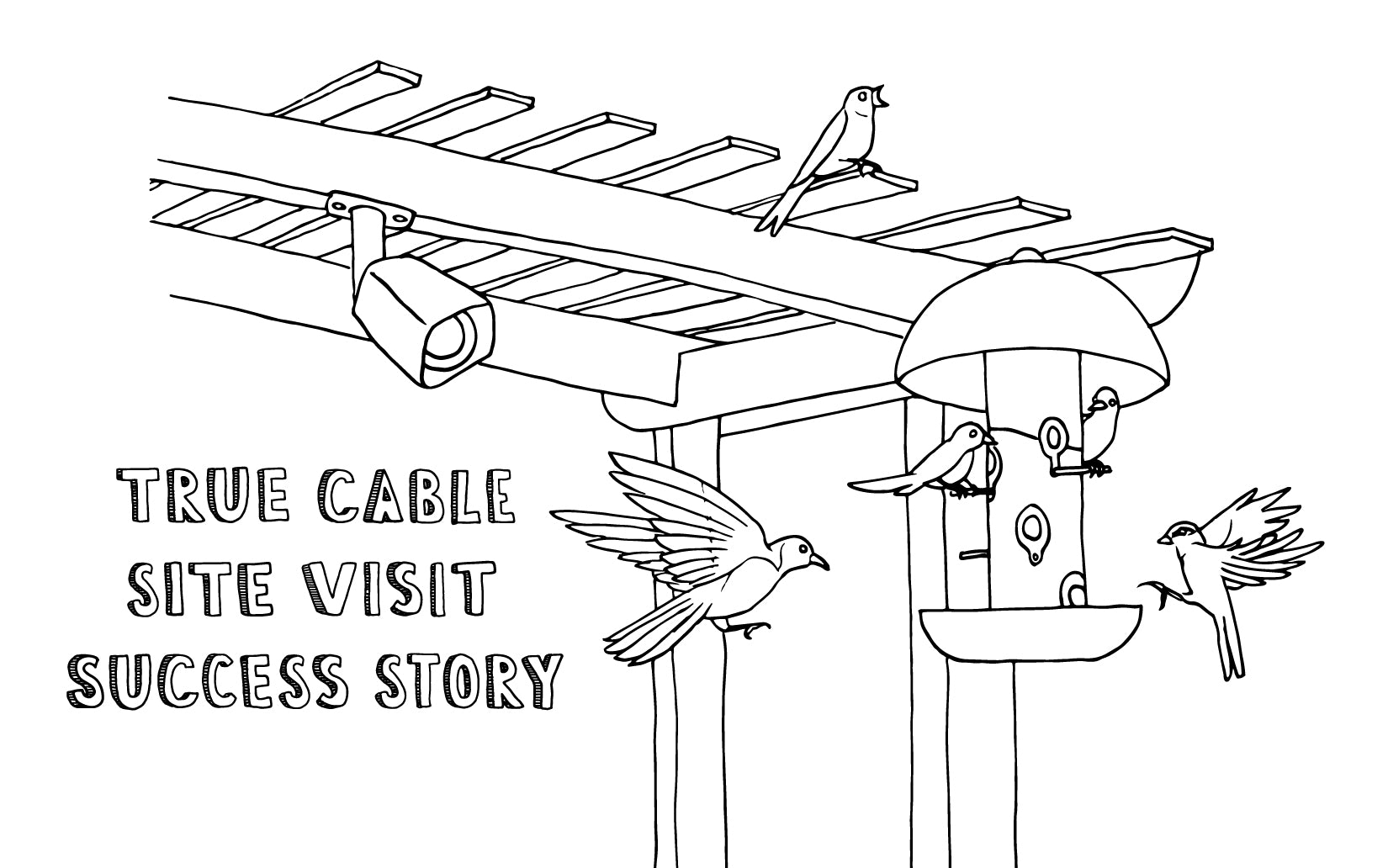 Site Visit Success Story: Setting Up a Proper Outdoor Camera Stream
At trueCABLE, we pride ourselves on providing top-notch products and support to help our customers with their cabling and connectivity projects. Recently, we had the opportunity to assist our customer's Jack and Brooke with setting up outdoor streaming cameras at their home. In this post, we'll take you through the questions we asked to understand their needs, the challenges they faced, and how we helped them overcome those hurdles to get their new system up and running.
How the Customer Discovered trueCABLE
The journey began when Jack and Brooke were researching cabling options for their new home project. They wanted to set up a 24/7 bird streaming system and stumbled upon our products during their online searches. As they explained, our website stood out for having helpful information to aid in selecting the right cabling for their specific outdoor application.
Jack and Brooke. Notice the post in the background. That is where the bird observation platform will mount.
Installing Cabling for Outdoor Streaming
After selecting our outdoor-rated, direct burial cables, Jack and Brooke ran the lines from their home out to the location of their bird feeder and nighttime critter camera. They wanted the perfect setup for watching the wildlife!
Jack and Brooke were installing a relatively high power Power over Ethernet (PoE) setup where a PoE injector was mounted inside their home powering a remote PoE switch. The remote PoE switch is mounted in a gazebo with a hot tub. The remote PoE switch then radiates outward with an Ethernet cable to connect up three cameras. One camera is mounted to catch ground critters. The other two cameras are mounted in a large covered observation platform (with bird feeder) to watch the different types of birds that arrive to eat and play. All camera feeds are sent to a laptop PC and then streamed live online.
Unfortunately, after a short while they ran into some connectivity issues.
Troubleshooting Connectivity Issues
When asked what issues they were dealing with before contacting us, the customer explained:
"We thought we had a kinked cable and we thought that was the reason our ends were not working or providing internet connection."
One of the most common issues with outdoor cabling is physical damage to the cables, whether from pests, weather elements, or improper installation. We were ready to help troubleshoot and resolve their connection problems.
Exceeding Expectations with On-Site Support
The customer initially reached out seeking a higher quality replacement cable.
"Our expectations were to get a new cable that was a little higher quality," said Brooke. Jack and Brooke were certain the Ethernet cable itself must be faulty as they had given it their best effort in running and terminating up to that point.
But our support team, led by our very own networking expert Don Schultz, looked for ways to go above and beyond. Don offered to visit their home in person to assist with proper installation and termination of the new cables. Onsite, Don did a quick survey of what Jack and Brooke were looking to accomplish, had already done, and the best way forward. In short, we had:
½" soft conduit that had already been buried (not good, since ¾" is the minimum recommended per standards and the flexibility of the conduit makes pulling cabling through it difficult)

An Ethernet cable that routes from an office inside their home to the gazebo outside running through one section of soft conduit to the gazebo. One

trueCABLE Cat6 Gel Filled Direct Burial Unshielded Ethernet

cable was already installed in this conduit, but had been cut down after multiple termination attempts.

The gazebo has an outdoor-grade enclosed remote PoE powered Ethernet switch mounted on the inside of one of the walls opposite the hot tub

Two soft conduits mounted underneath the gazebo and below the outdoor PoE Ethernet switch, but cable had not been run through the conduits to their destinations yet (the cameras). Three Ethernet cables will run from the gazebo mounted conduits, with two of the Ethernet cables running through a single ½" conduit to the bird watching cameras mounted on a large platform. The other conduit would have a single Ethernet cable running to a critter cam further out in the yard.

No

formal structured cabling system

infrastructure was present in the office--just a cable hanging out of the closet wall. Formal infrastructure means

patch panels

, wall mounted racks,

keystone jacks

, etc.).

Less than…ideal…8P8C terminations

(aka RJ45) on a few short sections of cable that Jack had experimented terminating, and which Don subsequently tested on a Fluke DSX-8000 and proved to Jack and Brooke were not good.
Jack's first attempts at 8P8C termination. The amount of untwist exceeds the allowed 0.5" limit and further the cable jacket is not inside the plug and crimped down, which will lead to very unstable (or completely unusable) terminations. The load bar is not in the correct position as well.
Essentially Jack and Brooke were constructing a network using 8P8C (aka RJ45) connectors on both ends of the Ethernet cables. This is creating a patch cord, and is not advised when dealing with solid copper as there are too many things that can go awry. When working with solid copper it is important to have IDC (Insulation Displacement Contact) terminations on at least one end of the cable run. IDC terminations include keystone jacks, punch down patch panels, or at least field termination plugs to create a "direct attach" cable). In typical fashion for Don, he went into "educator mode" and outlined a number of critical elements for a successful Ethernet installation such as:
The Plan
First, a trip to Home Depot was in order. Jack and Brooke were unaware of the criticality of cable lubricant so we picked up some synthetic waxed based lubricant designed for the task. Secondly, the gazebo mounted PoE outdoor switch was not mounted yet so we had a custom sized 2x4 cut for this task. 
Realizing that the initial "Give two hours of advice and run" strategy was out of the question, Don buckled down to assist with the installation. Working together, Don and Jack and Brooke:
Re-pulled the Cat6 Unshielded Direct Burial Gel filled cabling through the home office to outdoors

Mounted the gazebo-bound PoE powered Ethernet switch

Pulled two of the three branch Ethernet cables using

Cat6 Outdoor Unshielded UV

to the large bird feeder/observation platform

Terminated and tested the cable runs
As for terminations, given the lack of an infrastructure, Don decided to leverage our Unshielded Cat6A Field Termination Plugs for any spot that would physically accept them and not be subject to moisture. The camera ends of the Ethernet cables had to be terminated with 8P8C plugs, however, due to the physical limitations of the camera housings.
Both ends of the longest Ethernet cable were terminated to field termination plugs (office to gazebo)

A single end of each individual branch Ethernet cable was terminated to a field termination plug (the end mounted inside the weatherproof outdoor PoE switch enclosure)

The opposite ends of each individual branch Ethernet cable (the two running to the observation post) were terminated with our

Cat6/6A Unshielded Pass-Through RJ45 plugs

so they could plug directly into the cameras
Don, Jack, and Brooke ended up working well into the darkness and accomplished the tasks successfully. Only one Ethernet cable run was necessary to install and terminate, so Don left the necessary termination hardware and an additional healthy dose of advice.
Prior to departure, Don and Jack used the Fluke DSX-8000 to test the performance and PoE capability of each run that was terminated. All passed.
Subsequently, Jack and Brooke successfully installed the third cable run for the critter cam.
A Successful Outcome
Post installation celebration!
The customer was thrilled, stating:
"Don gave us so many tips from getting the cables ran and how to actually terminate the lines. He was super helpful and educational and he spent so much time with us. Exceeding expectations."
Thanks to Don's experienced support, the customers successfully got their new lines up and running to support their outdoor streaming cameras. Though they still had one more cable to install on their own, the knowledge Don shared equipped them to handle the task themselves. At the end of the day, providing this level of world-class support is what trueCABLE strives for. Our goal is to not only supply customers with high-quality cabling but also the real-world expertise to help them thrive with their networking projects.
You can check out Jack and Brooke's SchaumBird Life Youtube channel to see how the outdoor camera stream project turned out. Their 7-part series encapsulates the entire build. If you're more for sight seeing, you can also watch the 24/7 live stream!
Glowing Review
When asked about their overall experience, Jack and Brooke raved:
"Very great customer service. Very responsive. Exceeding expectations with a visit from Don himself. Would definitely recommend it to a friend or colleague."
It's feedback like this that motivates us daily to deliver outstanding products and support. We're thrilled we could go the extra mile to help this customer get their streaming project up and running smoothly. The pleasure was ours!
Our Commitment
Assisting customers in successfully implementing their connectivity goals is our passion at trueCABLE. We love sharing our technical knowledge, whether it's troubleshooting issues remotely or providing hands-on installation guidance like we had done with Jack and Brooke! If you have an upcoming project that could benefit from our support, reach out today to see how trueCABLE can help take your network to the next level. Additionally, you can find a wide range of information on everything low-voltage and low-voltage supplies in the Cable Academy blogs.
Happy Networking!
trueCABLE presents the information on our website, including the "Cable Academy" blog and live chat support, as a service to our customers and other visitors to our website subject to our website terms and conditions. While the information on this website is about data networking and electrical issues, it is not professional advice and any reliance on such material is at your own risk.