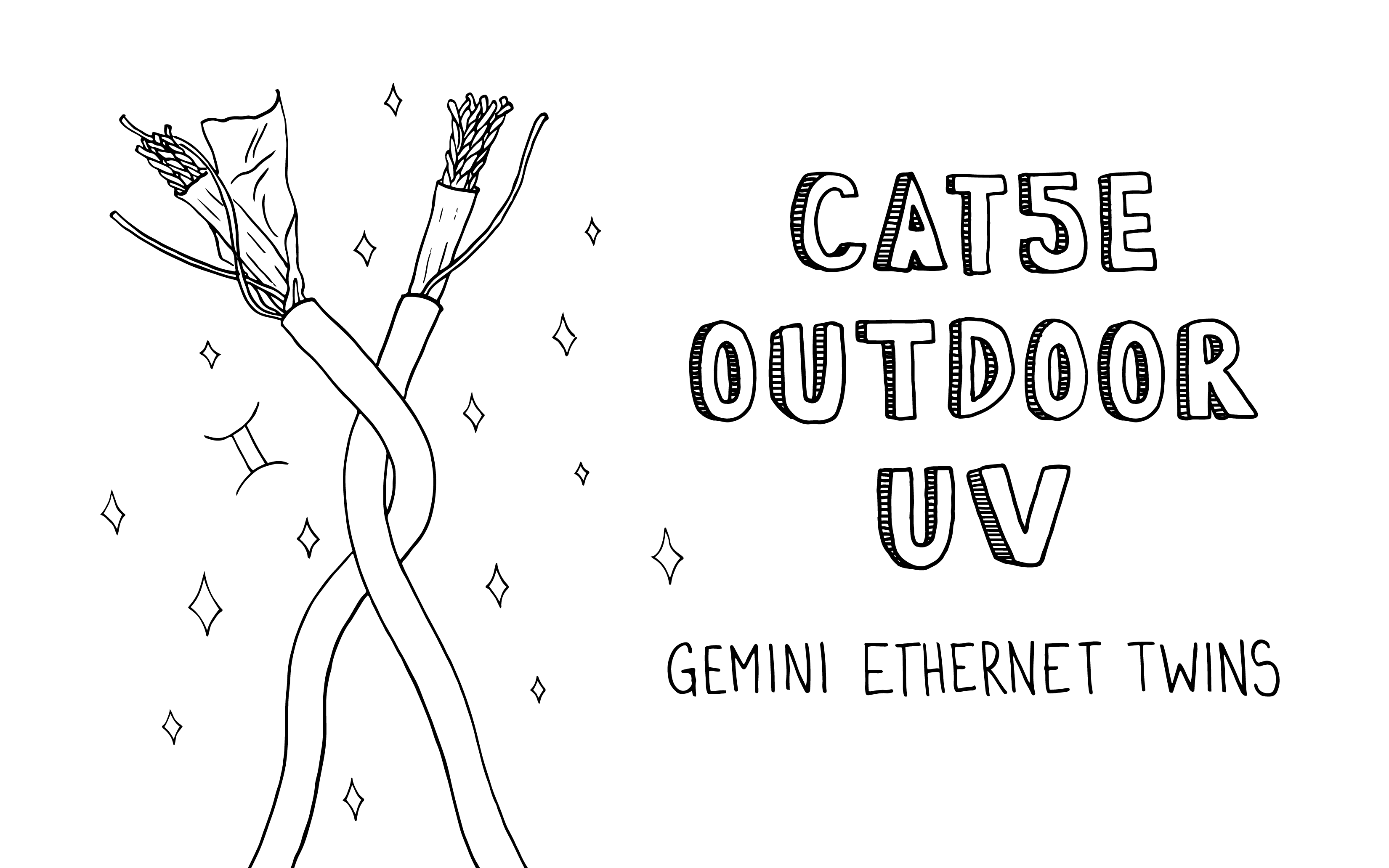 Cat5e Outdoor UV - Gemini Ethernet Twins
Written by Don Schultz, trueCABLE Technical Manager, Fluke Networks Copper/Fiber CCTT, BICSI INST1, INSTC, INSTF Certified

Have you ever found yourself in a situation where you need a quality outdoor grade cable, you're not looking to direct bury, and the cable needs to fit into a tight surveillance camera or outdoor WiFi AP housing? At the same time, are your requirements such that Cat6 and especially Cat6A would be overkill and way too thick? How about when you need to run shielded outdoor grade cable inside AND outside and not violate the NEC/NFPA 70 rules about residential use for CMX jacketed Ethernet cable?

I have found myself in this position often. It's annoying, too, since it is not easy to locate this kind of cable! I tend to specialize in outdoor (not direct burial) installations where WiFi Access Points (WAPs) and PoE IP surveillance cameras have tight housings, and those devices don't need more than 1G (1000BASE-T) or more than about 9W of DC power. The runs are often residential, and need to go inside and outside without violating fire safety code. Talk about a dilemma.

After sitting down and pondering this situation the trueCABLE engineers and I developed new twin cables. These Ethernet cables are built and designed the same way, except one is shielded and the other is unshielded. Both are Cat5e, and slender in diameter even though one is shielded. The bonus is both cable types address common outdoor install scenarios that I often run into with certain outdoor equipment. Say hello to our new Cat5e Outdoor UV twins, Cat5e Outdoor|Shielded and Cat5e Outdoor|Unshielded.
Cable Characteristics (differences noted):

ANSI/TIA 568-2.D compliant and Permanent Link tested to Cat5e performance
Comes in shielded (F/UTP) or unshielded (U/UTP)
CMX rated LLDPE outdoor jacket for rain, snow, UV sunlight, and ice resistance
Not direct burial rated
24AWG solid pure copper conductors
Supports PoE, PoE+ (IEEE 802.3af/at) up to 30W and 300V DC
Cable jacket outer diameter (OD)

6.15mm (0.24") for the shielded version
5.10mm (0.20") for the unshielded version

Insulated conductor diameter

0.97mm for the shielded version
0.91mm for the unshielded version

Bend radius

1.75" for the shielded version
1.25" for the unshielded version

Terminations for shielded version
Terminations for the unshielded version
Both are suitable for residential single & duplex dwelling indoor/outdoor use. Per the NEC/NFPA 70, CMX may be used indoors and out in this environment if the cable jacket diameter does not exceed 0.25". If use is commercial, the cables may run into the commercial building up to 50ft before they must be terminated/transitioned to indoor Ethernet cable.

Performance and Compatibility Test Proof
As is normal for trueCABLE, we test our Ethernet cable and accessories together as a system. Here are two example Fluke DSX-8000 test results of our Cat5e Outdoor UV cable using either shielded Cat5e toolless keystones at both ends or unshielded Cat5e toolless keystones at both ends. This is known as a Permanent Link test which would be from "rack to jack" or "jack to jack".
Test example for the shielded version. This is a Permanent Link test.
Test example for the unshielded version. This is also a Permanent Link test.
Behind the Scenes - Cat5e Outdoor UV Ethernet Cables Dissected

Break out the hacksaw and scalpel. We are going to take a look at the guts of these cables.

Shielded Version
Raw shielded Cat5e Outdoor UV cable, ready to strip
Shielded version, stripped, exposing the cable shield and rip cord
Cable shield peeled back, showing ESD drain wire and interior assembly
Cable shield removed…so we can use a…
Copper fabric strip. The drain wire is wrapped around the jacket, and the conductive adhesive copper fabric strip is applied to broaden your bonding surface without increasing cable thickness. Told you they were useful!
Unshielded Version
Raw Cat5e Unshielded Outdoor UV, ready to strip
Unshielded version stripped, showing rip cord and interior assembly
Unshielded version, all ready to terminate
So, there are the Cat5e Outdoor UV twins! Both are extremely useful for your shielded or unshielded runs as required and both are far easier to work with when you really have tight spaces you are trying to get into. I make use of these outdoor cables often, in the specialized circumstances they are called for and where Cat5e will work well and future-proofing is not a major consideration. Who said Cat5e is dead? It's not. Many have predicted the death of Cat5e and it is still going strong when used judiciously.
HAPPY NETWORKING! 
 trueCABLE presents the information on our website, including the "Cable Academy" blog and live chat support, as a service to our customers and other visitors to our website subject to our website terms and conditions. While the information on this website is about data networking and electrical issues, it is not professional advice and any reliance on such material is at your own risk.